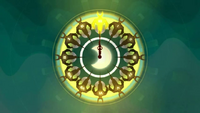 The Hour Demons are a group of 24 Demons that were hired by Xelor after the creation of his Clock to keep watch over the passing of hours. Each is named after the hour he or she is responsible for, written in Roman numerals. While Demons have a penchant for violence and destruction, they like being on the receiving end of abuse no more than anyone else, which is why some were eager to leave the Shustuft Crust and escape the tyranny of Rushu, even if it meant working for Xelor and watching over the World of Twelve.
They are most notorious for their involvement with the Hormonde, a dimension for time keepers that they turned into a series of floating arenas by stealing pieces of the world from various eras and kidnapping heroes from across time to fight in them. This concept has been featured in many products, such as Arena, Dofus-Arena and Krosmaster, and allows them to break the monotony of their duties. In addition, the system allows them to settle disputes among themselves in a "civilized" manner.
References
Edit
Community content is available under
CC-BY-SA
unless otherwise noted.